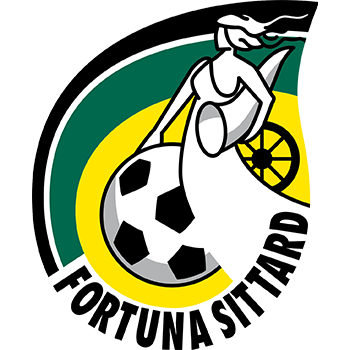 Founding
Fortuna Sittard was created after a merger between RKSV Sittardia from Sittard and Fortuna '54 from Geleen on 1 July 1968, initially until mid-1979 under the name Fortuna-Sittardia Combinatie, often abbreviated to Fortuna SC, sometimes to FSC. Sittardia was formed twice before from a merger and after its foundation in 1955 it played in fourteen years in all four highest classes of Dutch football. Fortuna '54 achieved better results in the same time frame with twelve seasons at the highest level and two KNVB Cups won. After the club played in the Eredivisie since 1956, Fortuna even finished in second, fourth and third place in succession. However, both clubs were downgraded from the Eredivisie in 1968.
Due to financial problems, the clubs decided to proceed with a merger. Because Xerxes/DHC was dissolved, the new club was allowed to remain active at the highest level. The following season, however, the club finished in last place and was downgraded.
Prijzen
In 1995 Fortuna Sittard won the first division. She thus secured promotion to the Eredivisie. From the 2018/19 season, the club played in the Eredivisie again, after a second place in the first division in 2017/18 was enough for promotion.